We put together a debate bringing together Common Sense journalists from across the political spectrum to debate when free speech actually becomes hate speech and who gets to decide!
Our Brief
The evolution of social media has provided an amazing platform for people to express their views: right-wing, left-wing, radical, moderate – everybody has a voice. However, in recent years, we have seen a crackdown as social media platforms such as Twitter, Facebook and Instagram have cracked on views which they regard as hate speech. In 2021, this climaxed with the de-platforming of the former president, Donald Trump, a decision which led to an outcry among some and celebration, among others. On top of this, the topic of free speech at universities had become increasingly important with the proposal made by Gavin Williamson for a 'Free Speech Champion' at the Office for Students. With all of this, it was clearer than ever that we needed to expose people to the range of opinions that people hold regarding the topic of free speech in our modern society, so that they could hopefully make more informed decisions on this contentious topic.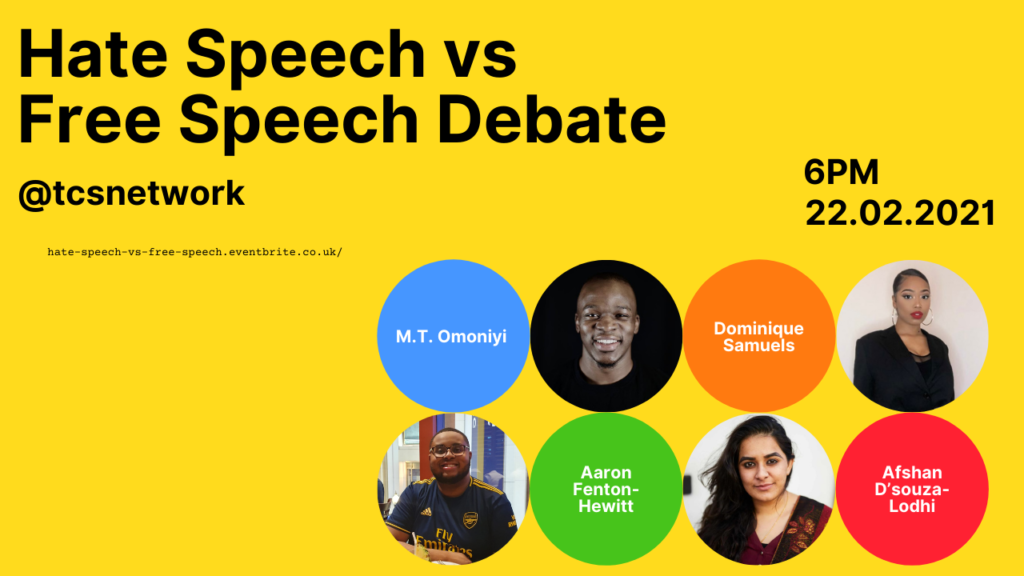 Our Idea
Capitalising on the diverse range of contributors within our network, we brought together a diverse panel of Common Sense journalists who would lead the debate. However, we also realised that the best way to truly represent the diversity of opinion on the topic was to make the debate interactive. Using the chat function and the ability to raise hands virtually on Zoom, we were able to maintain a balance between the back and forth of a live debate and respect for other participants' time to speak. The debate structure was very straightforward as topics ranged from attempting to define both terms, the protection of free speech at universities and on social media and how the topics of free speech and hate speech impact marginalised communities. Flowing naturally from topic to topic with the help of the event's host, the debate allowed the audience to both listen and contribute to a discussion which is often only held within echo chambers in mainstream media (if the discussion happens at all).
Our Outcome
The success of the event was reflected by the overwhelmingly positive feedback we received from the attendees:
100% of attendees said that they enjoyed the event and would attend another event run by Common Sense
I enjoyed the openness and honesty of the call. Granted there were a lot of conflicting points, but these were all handled with care and were each discussed with respect, in an inclusive environment.

It was an amazing conversation to hear. It was nice to see the topic broached in a safe environment.

Feedback from two of our debate attendees